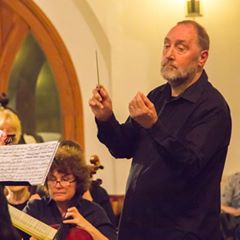 David has been an amateur viola player for more than fifty years and Chairman of the LRO since 2009.  His early career was in the management of professional music and theatre although his day-job now is running a software company in Islington.
He conducted a little at University but took it up seriously for his 60th birthday party and has been studying, practicing and learning repertoire since then. He has studied with Peter Stark; at Sherborne with Denise Ham and Rodolfo Saglimbeni; and at the London Conducting Workshop in London and Paris with John Farrer and Neil Thompson.   He has recently been conducting the London Classical Soloists in masterclass concerts in London and in 2014 conducted in a masterclass and concert in Aldeburgh with Kenneth Kiesler.   Late in 2015 he conducted the Berlin Sinfonietta in Beethoven's 2nd Symphony in a concert as part of a class led by Prof. Colin Metters and has recently been back in Berlin conducting them in the Dvorak Serenade.
David conducts the LRO for some rehearsals and regularly conducts the Ellington Set chamber orchestra. David has conducted a series of concerts with the London Repertoire Orchestra,  most of them containing a Beethoven Symphony.