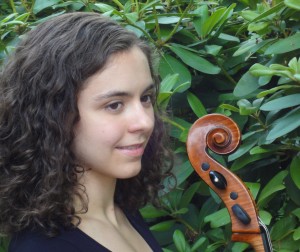 Chiara Enderle was born in 1992 in Zürich, Switzerland into a family of musicians.
She has gathered international experience as soloist with various orchestras including the Symphonic Orchestra of Zürich, the Karlsbad Symphony Orchestra, the National Philarmonic Orchestra in Warsaw, the Arbon Symphony Orchestra, the Chamber Orchestra Graubünden, the Chamber Orchestra Elfenau and the Youth Symphony Orchestra in Zürich. In September 2013, she will make her debut with the Tonhalle Orchestra in Zürich, playing Schumann's cello concerto.
A passionate chamber musician, Chiara enjoys playing string trios with her parents, members of the Carmina Quartet. She regularly attends the Open Chamber Music festival in Prussia Cove, which lead to performances in Wigmore Hall in London as well as at the Salzburg Festival in 2012.
In February 2013, Chiara was awared first prize as well as two special prizes at the Lutoslawski International Cello Competition.
She recieves valuable insight from master classes with great musicians such as David Geringas and Ralph Kirshbaum, and is especially inspired by her regular work with Steven Isserlis at Prussia Cove.
For more than five years, Chiara studied with Thomas Grossenbacher in Zürich. She is now continuing her studies with Jens Peter Maintz in Berlin.